Cover Girl Clump Crusher Mascara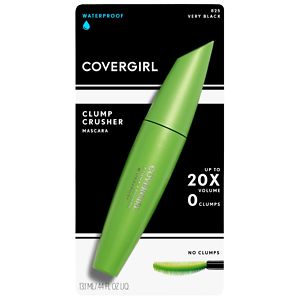 The Product:
CoverGirl's Clump Crusher Mascara has been on my radar since I read about it in Allure as one of their 2012 breakthrough products. To be honest I had a hard time finding it but finally found in a drug store. Target and the few grocery stores I tried didn't carry this particular Cover girl Mascara. I think now Target does carry it regularly. : )
What they say:
No Clumps. The bristles on the brush are positioned close together so there are no clumps left on your lashes. Even after 30 swipes on the lashes, no clumps! 200% more volume.
What I say:
It's true! No clumping and very nice, clean feathery lashes. It has a decent lengething and volumizing effect but I did notice a bit of flaking at the end of the day so I wouldn't reccomend for a long day.
What it looks like:
Price Point: Around 6$ - $8
Photo Credit: www.beautyjunkiesunite.com, www.covergirl.com
Have you tried it? Let me know you think in the comment section.